The winner of the contest!
23 people has entered our this year's contest, but only 12 were able to qualify for the drawing...!
On this weekend the electronic TRForge lottery pot™ has calculated a winner, affectionately. The TRForge mug goes to:
Jesús Antonio Rojas López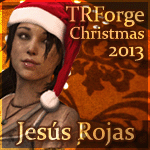 The TRForge team will contact the winner for further information.
Also, for Christmas the trusty calendar hero
DJ Full
has sent us a
wonderful, selfmade video from Poland.
Thanks a lot to everyone who has joined our contest!
We wish you a happy new year 2014!