TRForge explains: What you absolutely didn't know about Winston Smith
1. Winston as enemy
Originally Winston was planned as an enemy. With his hot tea in his tea pot he should scalded Lara at first. Since the use of luxury foodstuffs as ammo applied to be extremely violent in 1996 and could have caused the indexing of a video game, Winston finally became a harmless butler. But it's clearly visible that he was planned as an enemy because he always follows Lara everywhere and grunts when he gets bumped.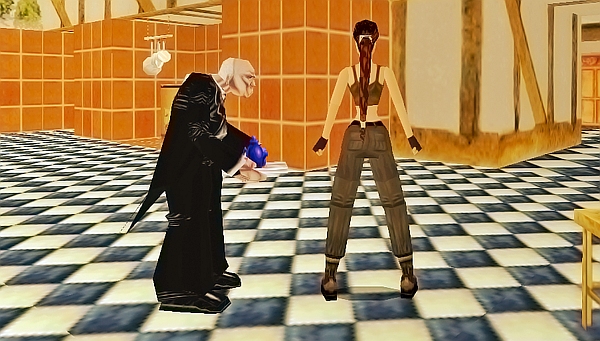 Wolf in sheep's clothing: psychologists agree that Winston Smith's rage is clearly visible. Since Lara already has enough skills relating to monsters and villains, the ticking bomb in her house is no problem, in case of an accident. For that there's the freezer.
2. Director's Cut "The search for the lost butler"
A Director's Cut for TR6 with Winston was planned with the intended title "The search for the lost butler". Story: Shortly after Lara put Winston inside the freezer, she has to go to Egypt for occupational reasons. When she gets out of the collapsing pyramid at the end of her mission, a rock hits her head that she cannot bring Winston's whereabout back to her mind and has to search for him. But the Director's Cut came to nothing. On the one hand the developers were overstrained with the main game. On the other hand they were afraid -due the age rating of 12 years- that it would induce younger gamers to get rid of annoying parents, siblings or pets.
Concept text of the packaging: "Comb through Lara's mansion and find out a dark secret. Are you ready for finding Winston and defrost him?"
3. Winston since Tomb Raider Legend
Since Crystal Dynamics took over the development of the Tomb Raider series from Core Design, the characters had to adapt to the modern ideal of beauty. In the course of that not only Lara's double Z cups became smaller knockers (even for sports), but also Winston was allowed to go under the knife. By a skin tightening and an orthopedic treatment the formely fragile and ugly tea-tablet-holder shines in a new splendor, in the form of an attractive and classy butler. According to rumors also his brain has undergone a surgical procedure because since Tomb Raider Legend he no longer uses grunting sounds for communictation. Crystal Dynmics hasn't commented this speculation yet.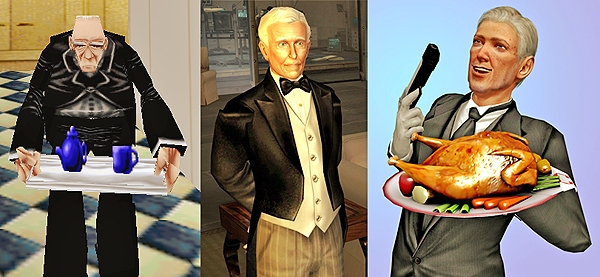 Winston's magical transformation within 10 years.
4. Other
Because after TR III Winston didn't feel like spending 99,9 percent of his working time inside a freezer of the Croft estate, he applied for Lara's companion. Due that buckled back he didn't passed the sport test for tomb raiders and he had to go on with his work as a butler.
In Winston's cognation are a German shepherd dog and a pug, which is the reason why he had the broken back before the surgeries, why he was so wrinkled and always breathed heavily.
Winston is a reference to a common operating system: though he piles it on, he doesn't really serve the purpose.
Due his radical job-related past, Winston is the actual inventor of the P&oumlkelschrank. His advertising slogan is: "Conserving without freezing." (German: "Konservieren ohne Frieren.") More on this subject you'll find on geekforpoekelschrank.blogspot.com - your number one in matters of P&oumlkelvollautomaten.
- gabiza7